You Better Belize It!
Placencia, Belize. Not the average Honeymoon Getaway and precisely the allure. We married on July 6, 2013 and took flight on July 8, 2013 as husband and wife. We booked our trip back in April on Hotwire.com. We did a flight and hotel bundle booking and saved.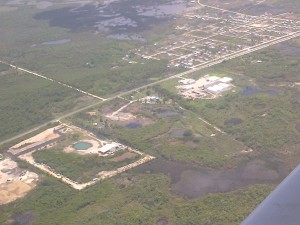 Our trip began on a 5:30am flight for five hours, arriving in Belize City, Belize at 10:30am that included a connecting flight in Texas. Once in Belize we still had not reached our destination of Placencia. We boarded a smaller aircraft for 40min, an 8 minute cab ride later we had arrived!
Laru Beya Beach Resort. Front desk receptionist escorted us to our one bedroom villa. It consisted of an open concept full kitchen, living room views out to the patio where we were mere steps from the warm beach. The bedroom had a king size bed with an on suite bathroom included double vanity and a large glass shower, cannot forget the large window that overlooked the beach. Basically all that you could ask for in a relaxing vacation and in this case, Honeymoon! The resort has a Restaurant and an Outdoor Pool. Delicious fresh food and drinks delivered poolside. We were literally in paradise for a week.
Front Desk was very nice and accommodating when we wanted to book any tours or relaxation treatments. We took full advantage booking tours, adventures and massages! We booked the Lubaantun & Nim Li Punit Mayan Ruin Tours, I had an In-Room one-hour massage (Patricia is amazing) and we also did a daring Zip-Lining and Cave Tubing adventure.
Respectively quite educational, ultra relaxing and extremely exhilarating! On our less adventurous days we took to the town by taxi and then again by golf cart. In town, there were stores with hand crafted gifts and jewelry made from the stones and rocks of the beach, we visit a delicious ice cream parlor, TuttiFrutti, best Carmel and Cappuccino flavored ice cream  you've ever tasted and of course we took a trip to several of the bars and restaurants.
Belize was different and not the cliché for the average Honeymoon. We are sure any resort would have given us the same experience, but it was the country that made the trip. The people, the water and cannot forget the food, we will certainly return to the country of Belize for future vacations. Another great reason to  try something different is the reasonable cost of this trip. We spent in total about $3000, that included our flights, resort, food and all the little extra adventures we took part in. Cannot wait to do it again!