Night Life in Bocas Del Toro
Isla Colon, which is the main Island has a lot of bars and restaurants that you can check out. The clubs and bars that were the most popular among the young crowds was Mondo, Aqua Lounge, and Iguana Bar. Tourists usually start off their night at Mondo bar because they have great promotion deals like 80's night, where you wear anything from the 80's era and you receive a free drink and power hour which means that every time they switch a song you have to take a shot of an alcoholic beverage of your choice. The place gets pretty packed and loud. But the people there are really fun. Attached to Mondo is a hostel so the people staying there normally come down for a few rounds and it's a great way to meet your fellow travelers. The place is free to get in and it's open till 3am.
Iguana Bar
Usually around 12 or when they have ladies night. People start heading out to Iguana bar which is few minutes walk on the main road. It's really great club, bar, and restaurant combination. When you get to the place you have to walk around back to get to the club area. If you get there early enough you can sit down and relax in the back area which has seats and back deck on the water. Lots of people throughout the night get pushed in or voluntarily jump in the water fun. Beer will cost you $2 and mixed drinks will cost anywhere between $4-$8 depending on what you buy. On the first day I got bumped into the waters of iguana lounge. I am not a good swimmer so people had to pull me out. I was known as the guy who fell in the water at Iguana. The place is free to get in and it's open till 3am.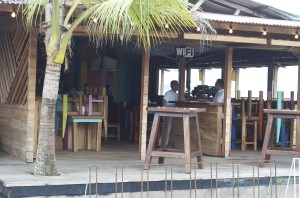 Agua Lounge
Agua Lounge is the third major club in Bocas Del Toro. If you are staying in Isla Colon, you have to take a water taxi to Agua Lounge. The water taxi can cost between $1-$3. The ride across the water is about 3-5 minutes. Agua Lounge is also  a Hostel.  The bar has 3 open decks for you to jump into the water similar to Iguana bar you will notice a lot of people going in for a swim. They also have a trampoline for you to jump into the water from the deck. To get into Aqua Lounge, it will cost $5 and the place is open till 3am. Agua Lounge and Iguana bar alternate nights of when they are open. They each have ladies night. The only exception is that Agua Lounge has an entrance fee.
Keep in mind there are a lot of places that are open and during my time in Bocas Del Toro those were the most popular spots. I am sure there are other great places that people attend during season. The locals do show up to the same spots as the tourists which make it an even better experience. Make sure you are careful because some of the local women are there for business if you know what I mean. Have fun in Bocas Del Toro and let me know of other great spots that people hang out and have a few drinks.