Before going on an adventure to a foreign country, make sure you have a visa otherwise you will not be permitted into that country. Depending on your country of citizenship, you may or may not be required to get a visa to enter a foreign country. Check with your embassy and that of the foreign countries embassy to see if a visa is required.  Most requests can be filled online and paid with a credit card and you can complete the process once you arrive at your destination.
When filing for the visa you must say why you are visiting that country. Examples are business, vacation, school, and to visit family. In some Asian countries, vacation is called holiday or leisure. In some instances, your length of stay in a foreign country is dependent on the nature of your visit (business, vacation, school, and to visit family). Most countries have a Foreigners section of the public Security Bureau where you can apply for an extension to stay longer.
Depending on the country you are visiting, you will be given the option of one entry or multiple entries.
Single Entry visa
Single entry into a foreign country is usually valid for 3 months for a maximum of 30 days.
Double entry visa
Double entry allows you to have two entries on a single visa which means you can leave and renter without reapplying. For example, when you apply for a Chinese visa you can apply for a single or double entry for the same price. You will have a window of 3 to 6 months to travel around the country. Once your 30days are up on one of the entries, you have to leave the country and come back on the same visa if you have a double entry visa.
Vietnam gives you multiple entries but you have to do it all within 30 days. Once the visa expires, you have to reapply.
Visa Waiver Program
Allows for citizens or nationals of countries participating in the program to enter a country for 90 days without a visa for business and tourism. According to the United States of America's Department of Homeland Security (DHS) website, these countries are part of the Visa waiver program.
Iceland
Ireland
Italy
Latvia 
Liechtenstein
Lithuania 
Monaco
Click the link below for more information about the visa waiver program from the DHS website
http://www.dhs.gov/visa-waiver-program-passport-requirements-timeline
E- Passport
Most modernized countries have high tech airports that contain electronic passport reading machines. So if your passport is equipped with the E-passport symbol you can use the machines to get in and out of the airport quicker. Most countries have their  own rigorous requirements to obtaining an E-passport. The best way to get information is to visit the customs and border protection department of your country of citizenship.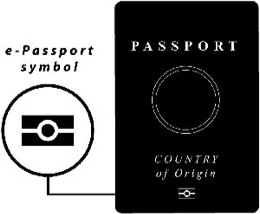 Picture of E-Passport taken from U.S.A DHS website