Young and in Love, Virgin Islands Style
There they were exchanging vows; my roommate who I met in Virginia on an exchange
and her boyfriend from DC. The unbelievable thing about it is they were both 20 yrs. old.
Nevertheless, they were in love like I've never seen before. Three days prior to, I was just
getting off the plane to the coolest airport I've ever seen. Nothing but mountains and land
when you walk of the plane and onto the ground. I knew this trip would be an awesome
one.
I was born in Jamaica so I know a thing or two about Islands, but I've been living in the United States
for the last 8 years. Going to the Virgin Islands, specifically St. Thomas was the best
reminder of "happiness on earth." The water was the bluest Ive ever seen, friendliest people
I've ever seen, but of course the businessmen taking advantage was not the first I've ever
seen.
Anyways, I loved it. I felt like I was on my own private Island. St. Thomas was one of the
most romantics places I've ever been. It's true what they say, "it must be something in the
water" because everybody was in love. My roommate (Raydiance) introduced me to her
friends, all under 21 years of age, and most of them were engaged, living with their
boyfriends, or in a relationship; it was great to see.
The island of St. Thomas is really small, with cruise ships arriving everyday. You can stand
about ten miles away and still see a cruise ship. Heck you can see everything from ten miles
away! I stayed at two hotels while I was there, the Emerald Beach hotel and a hotel that was
directly across from it, over looking the water.  The
hotels were gorgeous, EXCEPT…while I was at the Emerald beach hotel I saw an iguana
that was the length of a 7 yr. old. It was the scariest thing I've seen thus far.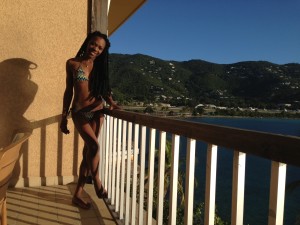 Getting back into the wedding, it was a small intimate ceremony, just like the island itself.
I was sooooooooo beautiful. I was lost in my emotions and started thinking to myself "you
know…maybe getting married young is not a bad idea." Raydiance and Sterling sure didn't
make it look bad. Oh, and another thing, I CAUGHT THE BOUQUET 😉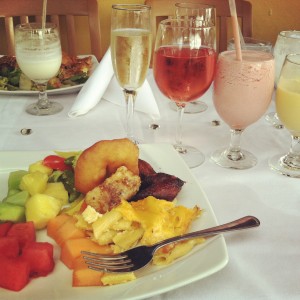 Picture of some f the best food the Island had to offer