Singapore Nightlife
Chances are if you are reading this article, you're in Singapore or planning on visiting Singapore. If you're like me, you want to make sure you enjoy the nightlife in Singapore. While I was living I had the opportunity to check out some great spots that the city had to offer.
Clarke Quay
No matter what day of the week, Clark Quay is always packed. The area is beautiful at night, you will find people taking pictures or hanging out by the bridge talking and drinking a few beers. Clark Quay is filled with restaurants, bars, clubs, and some clothing stores. They have specialty bars that are themed like The Clinic, the seats are wheel chairs, the drinks come in different flavors through an IV tube and shots are in the form of a needle. You can find some Irish and British themed pubs. Most of the bars usually have futbol/soccer playing in the background or cricket depending on the location. Drinks will run you around $10 and up for beer and more for liquor. Be ready to spend around $50 or more on a typical night. If you're your into live music, you can find plenty of places that have live bands. The bars and clubs in Clarke Quay play all types of music ranging from Hip Hop, R&B, Pop, Electronica, Rap, Dubstep, Reggae, House/Techno music. You name it and they have it. Some of the bigger clubs like Atica usually bring in internationally know DJ's to play at there clubs. Typical night life in Clarke Quay ends around 3am or 4am and some places close later.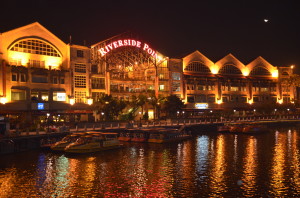 Boat Quay
Boat Quay is located in the same vicinity as Clarke Quay. It's a short walk between the two places. filled with great bars and restaurants. There are a few minor clubs but for the most part you will find bars and restaurants near the water. People come there to hang out, drink, talk, and enjoy the beauty of Singapore. The seafood is amazing but if you don't feel like paying for the restaurant or bar food, you can check out the mini Hawker Center for great food. Like many places in Singapore, you will find a lot of late night massage parlors and legal working girls asking you to come into their clubs.
Bugis
Bugis is a great place to visit during the day or night. On a typical night in Bugis you will find the streets lined up with motor bikes and bicycles. You find great Halal food and great hookah. This is more of a hang out and talk atmosphere. The restaurants are reasonably prices between $10-$35 depending on the restaurant. It's a great place to hang out with friends or to bring a date. The area closes around 3am. Depending on the night, you will mostly find soccer/futbol on the television screen. One of the unique clubs I accidentally ran into was Blue Jazz Cafe. They have a great selection of live and recorded Jazz music. Once or twice a month on a Saturday night, the top floor of Blue jazz Cafe has hip hop and reggae night. If you are looking for great hip hop and reggae, just walk upstairs and ask when are they hosting the party.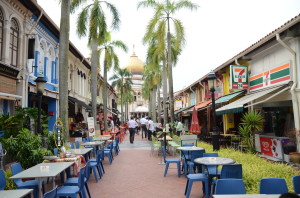 Sentosa
Sentosa is the man-made beach of Singapore. Usually they will have concerts and outdoor parties. You have to listen to the advertisements to know when the next party will be. But for the most part you can find something every weekend.