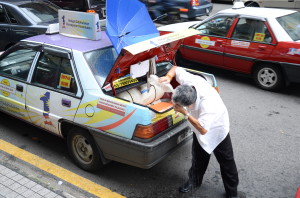 When I was in Kuala Lumpur, I quickly realized to move about the city I had to negotiate with the taxi drivers. For those of you who are seasoned travelers you already know that dealing with cab drivers can be a headache. When cab drivers don't use the meter or don't have a print out of their prices, it makes it a hassle to get from point A to Point B. Take the time to observe the cab drivers approach to locals and tourists, you can get a feel for how much you should pay to the taxi drivers and how to negotiate. Below are a few ways that I negotiated with the taxi drivers. These tactics will work in most situations.
The best way to negotiate is to have a firm price and stick to it
Be willing to walk away if negotiations are not going right
Negotiate between two cab drivers. Make them driver their price down
What ever amount they tell you, claim you do not have enough cash in your wallet
Claim to know the area and it doesn't cost that much to get there
Say the last cab driver charged you a few dollars less
Ask if they want to make money today? If so, tell them to give you a better price
Walk a few blocks and look for a different taxi
If you find a taxi driver that you are comfortable with, take their phone number and only use them to show you around
Jump in with a group of people going to the same place
It's been my experience that when it comes to spending money everyone knows your language. When you ask for directions from the cab drivers, they don't speak your language, but when you are getting ready to negotiate a fare or pay for a ride; suddenly the driver speaks your language perfectly. This isn't specific to just Kuala Lumpur. Most of the places I visited in Southeast Asia involved negotiating with the cab driver on price. This probably happens to men only but, the drivers try to make side deals by trying to sell you illegal women and other illegal activities if you know what I mean. If you are into that sort of stuff, be careful. If you're like me, just be polite and say no thank you.