Happy New Year and Soup Joumou
The New Year is a time to start fresh, reflect on your past, and recognize the opportunities for the future. Some people celebrate the New Year by going to a party or hanging with family. It's really a fresh start on life no matter how you look at it. It's time to rejoice and be thankful that you survived another year living on this beautiful planet.
For many Haitians, it's a day of celebrating our Independence from the French. Haiti, or Aiyiti as many know it, gained its independence on January 1st, 1804 and became the first black independent country in the Western Hemisphere and continues to be one the oldest black republic countries.
 The Significance of Soup Joumou
During the days of slavery, the French used to drink soup and not allow the slaves to do so. It was a way to symbolize the French's power over the slaves. The soup for them, represented high-class society and a way to keep them different from the people they enslaved. When the Haitian slaves fought and won their independence from France, they celebrated by drinking soup Joumou. The soup symbolizes that everyone is equal and it was a chance to add insult to injury after gaining freedom from their masters.
Soup Joumou , also known as Pumpkin Soup or Squash soup is a traditional soup made by Haitian families around the globe on January 1st of every year for Haitian Independence day.  The soup is made differently at every doorstep, but you are bound to taste Soup Joumou with a variety of spices, meats, and vegetables. Soup Joumou has a wonderful characteristic of always providing your mouth with a tingling tangy feeling that usually happens after giving your taste buds something so delicious that the flavor cannot be registered right away.
It's all about comfort. Soup Joumou is about celebrating with family and friends. If you ask any Haitian, they will tell you whom they saved soup for or how many people they brought soup to at work because that person wasn't able to get any. Soup Joumou brings Haitian people together for at least one day. As a Haitian, if you are lucky enough to have grandparents or great grand parents, they will share stories about their childhood and how the country has changed. At my house, Kompa music is played all day, friends and family come visit and eat, some bring food from their homes, cousins are running around the house and playing, all types of alcohol is being served. What better way to start the year than by eating good food with family and friends?
When Soup Joumou is prepared
My aunt starts preparing the night before. Some items that are unique to her recipe for making the soup are prepared the night before. These include special beef, dumplings, pasta, and chopped up vegetables. Around 7am my aunt begins to cook the soup, all the ingredients are added and cooked over the stove. Now I can't tell you exactly how she puts it together, but just know that the end result is utter bliss. The house is taken over by the smell of soup. The senses are going crazy and your mouth starts watering with anticipation.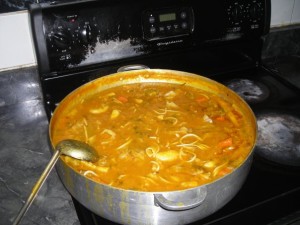 The morning of new years day/independence day feels like Christmas. My friends and I talk about the soup as if we are about to unwrap gifts. Friends and coworkers remind me to save them some. By the time I wake my phone has several voice mails and text messages saying happy New Year and Haitian Independence Day. I respond to all of them. My uncle is blasting good Kompa music from popular artists such as Sweet Mickey, T-Vice, Zen, Carimi, System Band, Tropicana, and many more artists.
How it connects to me
I was fortunate enough to grow up in Haiti and in the United States. From what I can remember, I didn't truly understand the true meaning behind the New Year, Soup Joumou, and Independence Day. It wasn't till I had experience a few 4th of July Celebrations and met a few like minded Haitians that made me want to dig deeper into the meaning and want to find out about my own background and what it means to be Haitian. All I knew, was we drank soup every year but didn't understand why nor did I ever ask. I decided to look it up on the internet and became fascinated with the history. The more I read, the more I wanted to learn how to make the soup and pass on to my little cousins, friends, family, about the true meaning behind the Soup Joumou. The more I learned about the history of Haiti, the prouder I became.