I haven't been back to Haiti since I was 6yrs old. So everything I remember about the country to this point were from the view of a 6yr old. When I left it was 1993. Leaving behind my brothers, sisters, mother, cousins, nearly ¾ of my family so I could have a better life in the United States. Throughout those times and there after, Haiti was in a lot of turmoil, natural disasters, coup d' tat, you name it and Haiti has been through it and despite all of  that, the people remain strong. A few years ago, the earthquake happened and suddenly the world knew Haiti again, every country in the world raised money to help the people of this great nation recover. I believe it was over a billion dollars. Exchange that to the Haitian Gud and that's a whole lot of money to change the face of this country to move it to the next 3 centuries. As I the plane touched down, I didn't arrive with any expectations but to see my family.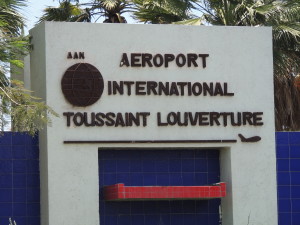 After passing through immigration and collecting my bags, I went outside to the embracing arms of my brother and cousins. Considering how hot it was outside, I was surprised to see people wearing jeans and boots. Taxi cabs official and unofficial were trying to give passengers rides to their destinations. From where we were standing at the airport, you could see the mountains into the distance with homes overlooking the city. It was beautiful. The photographer in me wanted to take some pictures overlooking the city. Trucks and SUV's were everywhere, you name a brand and they had it. We walked to our truck, I hopped in the back and pulled out my camera to take pictures. My cousin who was from the states started describing the changes that were made. As we took the back roads to Marlique and Kabwa he pointed out the abundance of huts that's the people affected by the earthquake lived in. At this point its been several years since the earthquake and these people still did not have their original homes. People were covered in dirt and just hanging around the side of the road watching cars drive by. Each hut or shelter was located right next to another hut, so privacy was at a minimum. But I'm guessing that was the least of the problems.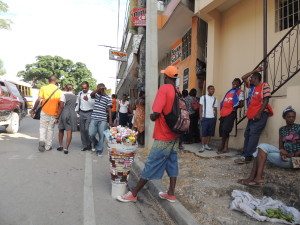 As we drove up the dirt roads, it quickly became apparent why everyone drove trucks as apposed to small four door vehicles, everywhere we drove was a hill that required 4 wheel drive. In a few minutes of driving around Port-au Prince, I've seen more suv's and trucks then I have in the states. If you've been to the USA, you know people love their big body vehicles. I remember all the commercials of trucks and Suv's showing them overhauling big tools, and driving on dirt roads, and just doing things that trucks were made for, but most people who owned these things never did. But out here in Haiti, these trucks were doing exactly what the commercials depicted.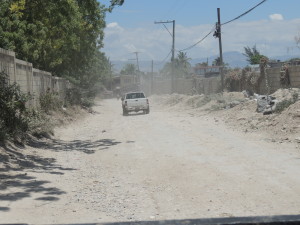 At this point it was around 2pm and school kids were everywhere dressed in uniform, carrying books, laughing, buying food and beverages from local food vendors. I felt bad because the dirt from the trucks created a dust bowl that covered the kids clothing. After a few trucks drove by I suppose it was time to wash your clothes and take a shower. The dirt mixed with the heat and sweat did not make for a good day to day experience. But I guess they learned to deal with it. Driving further up into the mountains you focus less on the details in front of you and try to capture the view of the city from the mountains. Most of the homes were not painted so they were the original color of the concrete, each home looking identical. We drove past street vendors, police, poor, rich, and people of all races.
With my cousin serving as the tour guide, he pointed out house of former dictator Devouile, the home of the current president, officials from Venezuela. As you can imagine, the roads were a whole lot cleaner and paved with nicely laid out bricks or blacktop cement. These house were painted and each one designed differently, architectural masterpieces. My cousin explained that it was always this way, the current President, former world renowned musician Michel Martelly "Sweet Micky" was making a strong effort to provide bridges, paved roads with proper drainage, and garbage collectors. Trash collectors were badly needed because people just threw out their garbage where they saw fit. Overall, I thought Haiti was changing for the better.