Before we get into this article. I just want everyone to know that I was against cruises. Never saw the point of doing one and I always thought that the cruise ship would sink. Call it the product of seeing the movie Titanic too many times. However, my cousin presented me with the opportunity to go on an eight-day cruise with him for a great price so I jumped on the chance.
The great thing about Carnival Splendor is that it departed from Manhattan. This meant no flying to Florida and spending extra cash on logistics.  The ship went to Half Moon Cay, Grand Turk, and the Bahamas. I've never been to any of the three. I was excited.
Remember when you go on a cruise, the whole point is to keep you on the cruise ship so you can spend your money.  Drinking age on the Carnival Splendor is 21 and up and the drinks are not inclusive of your package. However, they do offer great drinking packages that you could take advantage of.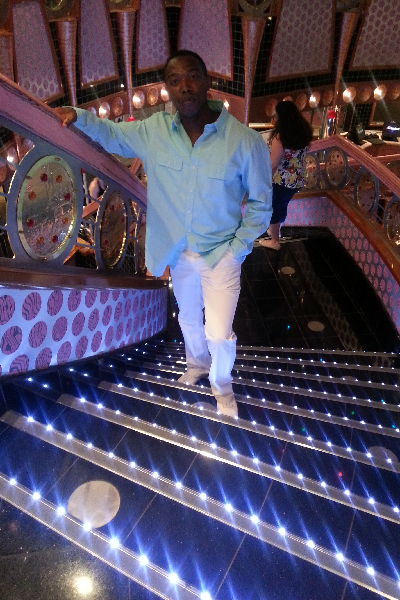 Layout of the ship
The ship had 13 floors
A Gym with spa and steam room
Every room had its own bathroom and a different layout depending on how many people were staying in a room
Mini Golf
Several pools and hot tubs
Two main formal restaurants and one steakhouse
One buffet style restaurant
Sports bar
Game rooms
A huge theater
Comedy club
Two dance clubs 18+ and under 18
3 other bars with specialized events
Gift shops
Photo studios
Track on the upper deck
Basketball court
Library
Internet Café – satellite Internet, real expensive and slow
Casino
What to pack
Since this was an eight-day cruise, I packed for 2 weeks.
Three Formal outfits for the formal nights
One all white outfit for the all white party
Jeans and shorts
Workout clothes
Plenty of sunblock
Dress and casual shoes
Make up
Cameras
Swim suit/shorts
Sandals
Wallet
Sea Sickness pills or bracelet
Some people like to dress up every night for dinner. If you are one of those people, pack accordingly. If you plan on going to the club or one of the many evening show's dress to impress.
My Experience on Carnival Splendor
Staff
The staffs on Carnival Splendor were very polite. The ship and staff lived up to its name of being the party cruise. Each day, the staff would deliver the programs, which let us know what shows or events were taking place that day. These included but not limited to comedy, dance, karaoke, poker tournaments, wine and whiskey tasting, jewelry sales, stage performances, hairy chest contest, and dodge ball tournaments. The rooms were cleaned several times a day. The staff of Carnival Splendor was from all parts of the world. However, I didn't notice staff members from the United States.
Dinner
Our dinnertime was set for us at 8:15pm. Sometimes that conflicted with some of the shows that took place in the Spectacular theater of Carnival Splendor. But if there was a show that you really wanted to watch, room service was twenty-four hours. During the many dinner nights, the staff would entertain us by doing a dance and they would let us get involved in the performance. Since dinner was inclusive, you can order as many entrees or desserts until you were full. I ordered and ate several entrees and appetizers every night. I think we had the best waiter and shipmates on our table. By the end of the cruise we all got to know each other very well.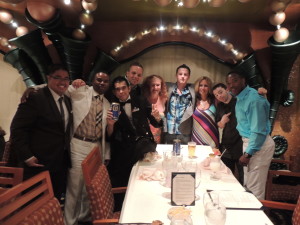 Shipmates on Carnival Splendor
I had a great time on the cruise. I met a lot of people. You are going to be on the cruise with the same people for eight-days so make sure you say hello to everyone that you see. I met a lot of new friends at the dance club and from dinner. Each day that passed I made more and more friends till we became a huge group. The pizza station was open twenty four hours, so each night after the club we would go up there to eat and chat. The people I met were from all over the northeast of the United States and Canada.
Events
I thought the program directors of Carnival Splendor did a great job of planning out events that applied to everyone. They held several tournaments, had several shows, and communicated the events via TV, the program book, and the intercom system. They had an event for everyone and the staff of Carnival Splendor made it easy for everyone to participate or cheer on the participants. My favorite shows were the comedy ones. They had a great selection of mainstream and non-mainstream comedians for the family and adult show's.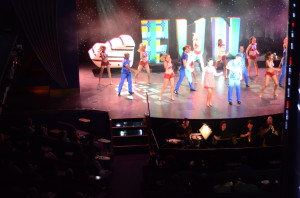 What I learned
Most of my fears of cruise ships sinking went out the window. I learned to relax and enjoy my fellow shipmates and myself.  Going forward I will know to pack formal wear and several different dress to impress outfits. Being out going and befriending people on the cruise heightens your experience and will make it more enjoyable. Unless you were staring outside your window, you wouldn't know that you were on a cruise ship. The captain did a great job of keeping the boat from being rocky. I don't get seasick and I eat more than I thought. Based on this first great experience, I would love to go on more cruises to different parts of the world.