My experience Singapore
While working for my previous employer, I had the opportunity to work and live in Singapore with two other colleagues. Prior to the job assignment in Singapore, I didn't pay much attention to Asia. I knew it was a place that I would eventually want to visit but to what I extent? I didn't know. Growing up in Haiti and America, what I learned of Asian culture was from brief celebrations of Chinese New Year in school, visiting Chinatown, cheap Chinese food, Kung Fu movies, and some friends that I made while in school. This all seems like a lot of interaction but it's nothing compared to my experience in Singapore and other parts of Asia.
Singapore
For those of you who are new to Southeast Asia, Singapore is one of the biggest financial centers in the world. It's a small country that's very advanced in technology and societal rules. The main language spoken in Singapore is Malay and English. Singapore used to be under the rule of the British. You will notice the British influence on the country. A lot of bars and restaurants and other places of entertainment are British owned or themed. What I loved about living in Singapore was the people and the food. My coworkers were great. I arrived in Singapore during the Chinese New Year Celebration which is about ten days. All the managers took out the employees for lunch for all 10 days. We had black pepper crab, chili crab, lo hey, and other types of traditions food. My coworkers were very impressed that I could use a chop stick. I thought that was funny.
Initial thoughts of the country
Singapore is one of the cleanest countries in the world. The first day I was there, I noticed one of the custodians cleaning the fire hydrant with a tooth-brush. I stood there staring at him for a few seconds. That's something that I've never seen before. I thought to myself "they really take this cleaning stuff to the next level". My first cab experience was interesting. It's always good to meet cab drivers with enthusiasm for their job and a willingness to educate tourists of their home country. What I learned from the cabby is that Singapore has a religious tolerance, all religions are accepted and practiced, the Jacksons, especially Janet and Michael have huge followings in Singapore, most of the people spoke English, and some of the popular tourists locations in Singapore.
Traveling around
Singapore is a well-developed country so transportation was easy. The country is small which makes it easy navigate. The three main forms of transportation are the MRT or Trains, taxi, and buses. In order to use the bus and MRT you need an EZ-link pass. You can put any amount of money into the pass. Every major MRT stop has a mega-mall. Shopping is a big deal in Singapore and other parts of Asia. The signs are in English and Malay. It is very easy to get around in Singapore through MRT. You can travel from one end of the city to another and in 1hr 30minutes. The MRT is mapped out in color and it takes you to the airport. Out of the three forms of transportation, the bus is the cheapest, but it also takes the longest to get to your destination.
Food Hawker Centers (food court)

Singapore has these massive food courts called Hawker Centers. You can find them anywhere you go in the city. The food is nothing short of amazing. You can also get amazing fruit drinks like, sugar cane, mango, and papaya. The price ranges between $2-$5 depending on what you get. One of the things you will learn quickly is portion control. You receive small portions of everything, so it's up to you to tell the vendors that you want more food.
Some of the most well know dishes are Nasi Lamek, Chicken Rice, Black Pepper Crab, Chili Crab
The Beauty of fruits
Fruit stands are usually in the same vicinity as the Hawker Centers. I had some of the most amazing fruits that I've ever tasted in my life while in Singapore. The king of the fruits is called Durian and the Queen of the fruits is called Mangosteen. Durian, when you smell it for the first time has a bad smell to it, but what I've learned is once you try the fruit, it will either taste sweet or sour and once you've had it, the initial smell that you had will be gone and you will only smell the best of the fruit. I can attest to that. I used to cover my nose when I smell Durian till one of my friends that I met in Singapore made me try it. It's a weird tasting fruit, it's slimy and gooey, but very tasty if you can pick out a good one. Mangosteen is a very sweet fruit, you have to peel off the skin to get to the center or the seed that has the actual fruit. Mangosteen quickly became my favorite fruit with a strong contender from mangoes. I was in fruit heaven while living in Asia, I had mangoes, Mangosteen, Durian, and other fruits everyday. The best part about Singapore is it doesn't have seasons so there are always fruits. In the month of July to early August they usually have fruit festivals. I was fortunate enough to attend the one that they had at my job. All the coworkers came out and had a great time. To prove that I was not afraid of tasting Durian, I tried it in front of everyone and they were very pleased. Outside our offices were a few mango trees that I used to use a stick to pick out the ripe ones. I quickly became known for doing that and putting the unripened mangoes in a brown paper bag.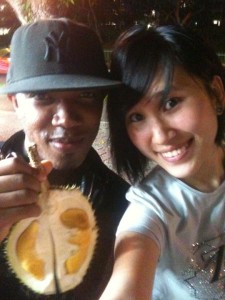 How I made friends
I'm by a nature an outgoing person so it wasn't hard for me to make friends. I also had the benefit of coming to the country with people I worked and were friends with from the United States, so it made it easy to hang out. However, I wanted to have some local friends as well. Singapore has a lot of programs that you can sign up for a cheap rate such as photography, dance, karate, learning a new language, and Microsoft Office Suite. Since, I was started to fall in love with photography I signed up for one of the photography courses which was taught by professional who was doing pro bono work at the time. Through that class I was able to meet people who had a common interest and were locals. My job had interns for a few weeks and I befriended a few of them. I checked out expat blogs, spoke to people who were going to the universities as exchange students, and I met people at hostels. During one my trips to the Bintan Islands in Indonesia with my co-workers from the states, we were able to meet some people from Canada that had lived in Singapore for a while, they introduced us to other people and we just kept expanding our circle. I remember my friends and I being at one of the expat bars in Singapore and I overheard someone say they were from Chicago and we all began chatting and since then we've been great friends. Another time, I was coming from the MRT or train station and I noticed someone wearing a Detroit hat and we began talking and becoming good friends till this day. The point I am trying to make is to go out there and be proactive about meeting new people. You will never know what you have in common with someone until you speak up and start a conversation. Just remember to be smart about it.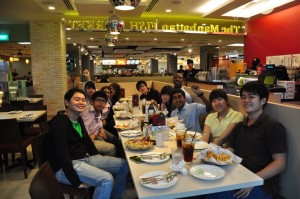 Overall experience
I had a life changing experience living in Singapore. I know you probably hear it all the time and at this point its become a cliché but living in Singapore was and still is a life changer. I was living and working in Singapore for six-months. In those six-months, I met a lot of people from all over the world. I've tried all sorts of food that I've never heard over before. My perception of Asia change, especially in my understanding of who or whom is considered Asian or what Asian's look like. When you get an opportunity such as this, you have to fully invest yourself in the culture and I did that. I hung out with the locals, went to the festivals, participated in events, took classes, and contributed to the overall society. I interacted with most of the people at my job and they appreciated that I came to their country with an open mind and was willing and able to try anything they recommended. Which in turn lead to more opportunities for me to interact with my coworkers in and out of work. They took me out to lunch, brought me to their homes, and taught me the language, and shared their lives with me. In return I did the same. The reason this travel blog exists is because of my wonderful experience in Singapore and other parts of Asia. I wanted to bring that message to anyone who was willing to read and listen. I wanted to give advice to people so they don't make the same errors as I did the transition to a new lifestyle. I came out of this experience as better person because of the experiences and the knowledge that I've gained. I made it a personal goal to visit a new country every year and to continue my newly found passion of traveling. As a result, I am currently pursuing a Master in Science in Tourism Management degree. I would love to go back and work and live in Asia and help other countries develop their tourism industry.