Two Bars, One Irish
Drinkers West Pub on 19th and chestnut in Philadelphia,PA
The day started off great. We walked to the Drinkers West Pub, the pub was already packed with people. We went right to the bar an ordered 2 shots of Jameson and pickle juice, and 2 green Budlight's for $30. Took the shots followed by the pickle juice. Great! The crowd was amazing. Everyone was dressed in green including us the Black Irish in celebration of St. Patricks day. Rock and roll had everyone dancing and having a good time. You could barely hear yourself talk. Random girl walks up to my boy and starts talking. Looks pretty and something tells me she wants a free drink. She's not getting it from me, is what I'm thinking. After a few more conversations with her, we take tequila shots (suckers).  The Dj puts on some R. kelly, more specifically,  Ignition and everyone goes wild singing and dancing. At the point the pretty girl from the bar brings over her friend who just happens to be pretty and we start dancing. The girls leave after we get their numbers and two more girls walk up to us and start talking.  They love our green drinks. We moved upstairs  because downstairs was getting way to crowded.  Upstairs had more breathing room for a limited time and another bar. The  Atmosphere was still great.  Dj was playing some good tunes.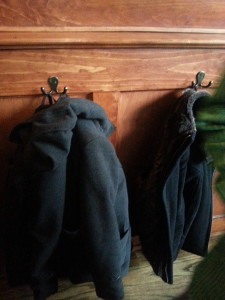 The great part about this place is along the walls near the window they had coat hooks to hook your jacket. Me being a super black Irish, I didn't bring a coat. We went to the bar and the bartemders knew what they were doing. They moved fast to get the drink orders and moved on to the next customer. Job well done fellas. Plus if you are to lazy to head to the bar they, had servers to take drink and food orders. The place was packed. After a few hours of good time and talking to people we decide to head to Moe's Mexican for food. It was time to head out to another bar.
Tavern on Broad located on Broad Street and Walnut Street, Philadelphia, PA
We went to a bar that my friend knew called Tavern on Broad. The wait to get in was about 10 to 15 minutes plus a $5 cover.The people coming out of the place were pretty excited. As soon as I stepped inside we understood why that was.  There was lots of space.  Pretty girls great music. It was time to have fun. A funny dressed kids asked us to punch him in the face and we said no. He was tired and wanted to feel the adrenaline. Michael Bolton is playing and people go nuts. Half the people know the lyrics and half don't. The place is packed but not comfortable because of all the space you are not bumping elbows with other people trying to pass by. As I walk a girl takes my hat to show me a fancy way of putting it on and I master it and we all give each other high fives. After a few hours at the Tavern on Broad, we decided to head back to the condo to rest up for tonight. Today was a great day so far.