First time in ARUBA!!!!
Though our trip was short-lived it was one of the most amazing times I have ever had. My girlfriend and I went to the beautiful island of Aruba for a wedding/vacation. The flight was somewhat long, four hours but it didn't seem like it because we slept through most of it. The flight tickets were Surprisingly cheap, we paid about $450 each for round trip ticket and that's only because I always add insurance with everything I buy. When we finally landed you could immediately feel the temperature change, it was very windy so you didn't really feel the heat. We got on our bus and headed to our destination, The Riu Palace one of the most amazing Resorts on the island by far the most monumental in stature everything about the palace was magnificent. I'm not going to lie when I heard we were paying $850 each for a 3 night 4 day stay, I was a little hesitant swiping my card, but for what its worth I would pay that over and over again!
We were greeted with fruit punch and a shot of vodka, needless to say these people knew how to party. The room was amazing. We had a view of the pool going into the ocean.
.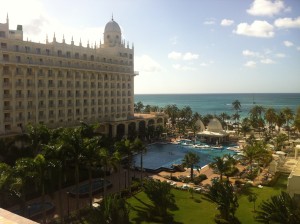 The weather was perfect. When we got to the pool bar, we were getting a little worried because the sky turned gray and rain started falling. That only lasted for about two minutes and then the sun was back out again. For the rest of the trip the weather was perfect. The beach wasn't unbearably hot or overbearing with wind. White sand followed by one of the most stunning ocean spectacles I've ever seen, teal colored water low clouds just marvelous!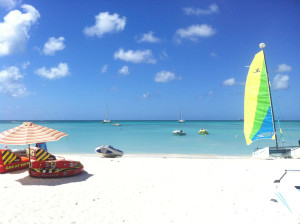 The locals were also great they were friendly and knew how to party, since the hotel was located in an ideal spot the clubs were only a walking distance away. We were informed that not only was this place beautiful but the crime rate was little to none! I would definitely recommend going to Aruba to anyone. Stay at the Riu Palace, you won't regret it!  P.S I never understood when people said "I have the travel bug" but I can honestly say that bug bit me now I'll see you guys on the beaches of the WORLD!!!!