When I first decided to head out to Vietnam. I didn't know what to expect. Most of what I knew was from textbooks about the Vietnam War that we studied in grade school in the states, which did not depict Vietnam is the best way. My friend that I met earlier that month who was also from the states just came from a trip to Vietnam the week before and he had an amazing time.
How I planned it out
Before I go on any trips I do my research on the area. This means, I check out the crime rate, crime against tourists, local laws, popular backpacking locations, hostel locations, and tourists reviews. I print out a map of the area and I never wear my best clothing. Although you are on vacation, you have to be aware of where you are and not make yourself a target for thieves. Once, you arrive at your destination, take your time to recognize landmarks and nearby streets.
Ho Chi Minh City is broken down by districts, if you plan on staying in a hostel on Pham Ngu Lao street which is located in district 1, you do not need a taxi to go to any of the tourist locations that I am about to mention. This means you can walk everywhere.
As a foreigner, you need to apply for a Visa before entering the country or else they will send you back. This can be done by going to the Vietnamese embassy's website or any site similar to this http://www.vietnamvisacorp.com/faqs/how-visa-vietnam-works–117.html?gclid=CLHjnOq-9bMCFYN_QgodngcAUQ. Once you get approved for you Visa on arrival. The visa cost me about $50USD for a double entry. Please make sure you do both visits before the Visa expires. I believe you get 30days to use up the double entry. Once your visa expires, you have to reapply.
It is time to book your flight! If you use any of the budget airlines such as Tiger Airways, you can find a round trip flight from Singapore to Vietnam for $50 USD. (Remember I did all this while I was in Singapore, so prices will be cheaper).
After I got my flight, I searched the web for places where all the hostels and backpackers reside. That street is called Pham Ngu Lao. On that street and the crossing streets you find at least 20 hostels and lots of backpackers who are passing through. Since, this place was filled with backpackers and hostels I didn't book my hostel for more than a night.  I wanted to go Hostel Hopping!!! I think I just created that term, I could be wrong. Please don't sue me. You can get a list of hostels on that street by searching and of the popular hostel sites. Once, you book your hostel online, you do the official payment when you arrive. You should not pay more than $15USD for any of the hostels. A lot of them are as clean as hotels! Hence why I went Hostel Hopping, if I didn't like a place, I moved on to the next. The first hostel I stayed in was not good, so I went to Saigon Hostel, which opened up that day so everything was brand new. How wonderful it is to be the first person there. The staff treated me like gold. Every room had king size beds and desktop computers. They ironed my shirt and pants and served me breakfast in the morning. They gave me advice on places to visit and things to do during the day. King James is HERE and FEELING GOOD!!!!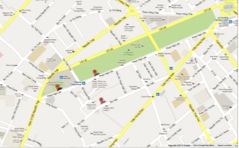 Once you arrive in Ho Chi Minh City (about 2hrs later) you have to go through customs and get your actual stamp.  Make sure you bring a passport size photo to speed up the process and some Vietnamese Dong (Vietnamese money). While waiting on the line to get my visa, I met an American who was working in Singapore and was taking a holiday (holiday also means vacation, the word holiday is used instead of vacation in most parts of Southeast Asia) to different parts Vietnam alone. So we decided to hang out.When you exit the airport, please get into an official taxi if it's your first time visiting and have a print out of where your hotel is. The ride from the airport to Pham Ngu Lao is about 20-30minutes depending on the traffic. The taxi cost less than $10USD.
What you will notice
A lot of the signs will be in English and the people speak English. Remember, you are a guest, so try learning a few words in Vietnamese. There are Pho' restaurants everywhere. Please read the article a taste of Saigon (which was written by my Vietnamese friend who lives in Vietnam) for more information on what to eat. There are wires everywhere on the light posts.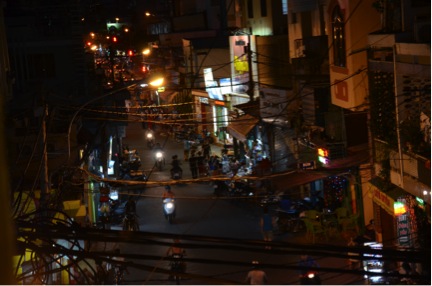 There are motorbikes everywhere. Out of all the countries I visited in Asia, Vietnam had the most motorbike motorists so be careful as you cross the streets. Vietnamese people are very skilled on the motorbikes and they can fit 3 or 5 people on one bike.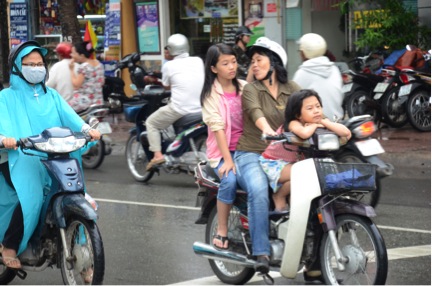 If you are good at negotiating, you can get one of the motorists to drive you around for a really low price. Make sure you ask one of the managers from the hotel to grab a motorist that they are familiar with to drive you around.
There are lots of cool restaurants and shopping centers. People will walk around asking you for money and in some instances they will make their kids do it.
Most of the museums are closed for lunch between 11:30am-1pm
Thursday
Upon arriving on Pham Ngu Lao. My friend and I went to our hostels to drop off our stuff and met up for dinner at one of the nearby restaurants whose name escapes me at the moment. Food and beer for the both of us cost around $15.
The night was young so we decided to check out what else was on the block. To our surprise we run into a bar filled with other Americans and Australians who are working in Vietnam as Dj's and teaching abroad.
One of the guys offered to buy me a drink if I took a professional picture of him doing some break dancing moves and some shots of his band. So my friend and I hung out with that crowd for the night and they told us all about life in Vietnam and how they came to Ho Chi Minh City a few years ago and never went back home because they loved it. We all exchanged numbers and decided to meet up the next day.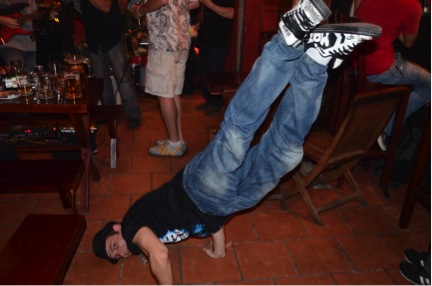 Friday
Grab a map from your hostel or hotel and it will tell you where all the historical sites and shopping centers are located. Make sure you grab a card that says the address of your hostel or hotel. If you get lost, just give the cab driver the hotel card and they will find it. Mid morning my friend I decided to meet up and grab some Pho (read A Taste of Saigon for more information about Pho) and check out the shopping centers of the historical sites.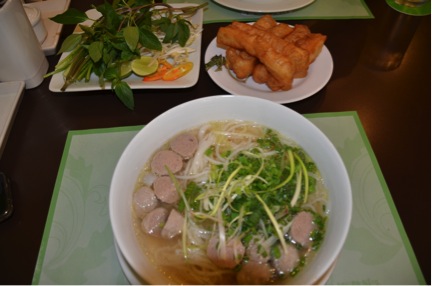 Before we bought anything we wanted to get an idea of the price of some of the items. So we made sure to walk around and talk to the vendors.  The indoor markets are huge and contain a lot of products so make sure you set aside a good amount of time to check out each one. This could take all day. I did notice that a lot of the outdoor vendors had the same items, so after awhile you noticed that everyone was selling the same products but at different prices.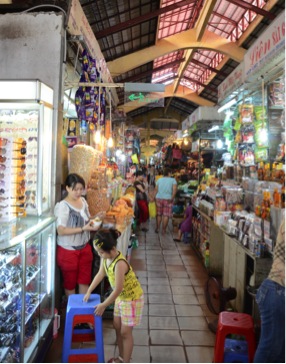 Historical Sites/Museums
Around 1pm we decided to check out some of the historical museums. I specially said 1pm because if you try to visit any of the sites during lunchtime, they will be closed.
The Reunification Palace
During the Vietnam War it was the home of the South Vietnamese President. The palace is beautiful and kept in pristine condition. They have a lot of tours through the palace, if you like you could pay for one or just walk around yourself and take beautiful pictures. Please don't touch anything! Depending on your schedule, it can take up to 1-3hrs to see the entire palace. I suggest you take your time and get to know the history behind the place. The place has old tanks, helicopters, president's desk, a ballroom, and other great features.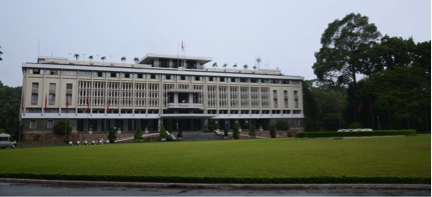 War Remnants Museum
If you have a weak stomach I suggest you don't visit this museum. The museum shows the affects that the American War (Vietnamese War) took on the Vietnamese people.  They have old artillery, helicopters, and tanks, fighter jets that were used during the war. The worse of the images were results of Agent Orange.  Images on the wall showed babies born with 2 heads and body parts in places that they shouldn't have been. The museum was an eye owner to the affects of war.
People's Committee (City Hall)
PC is not open to the public. It's old French style building. A lot of tourists and locals like to take pictures in front of the Ho Chi Minh statue. At the night they have special lights around the building to make it look real beautiful. It is a big tourist attraction.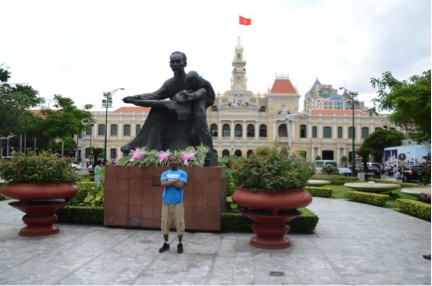 Street food
The streets are filled with street vendors. Just be bold enough to try it. Some of the best food that you will taste in Vietnam or any Asian country are from the street vendors. A lot of the locals will stop and eat on the street corner. It's a way of life so join it.  Remember that when you visit a country, you should be one with the culture and leave your old ways behind, unless you are allergic.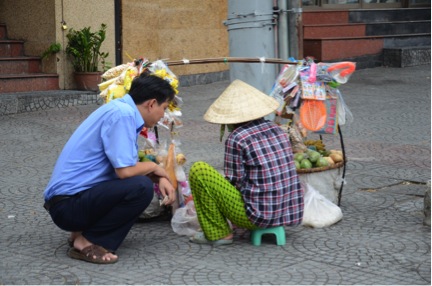 Ben Thanh Market
This is probably the main market. It's best to see it at night because it is beautiful. People are walking everywhere. You can buy clothes, coffee, shoes, etc. If, you are big into shopping, this is the place for you. A lot of the markets are open at night. It's a different atmosphere when you see some of these markets at nighttime. Just be careful of thieves.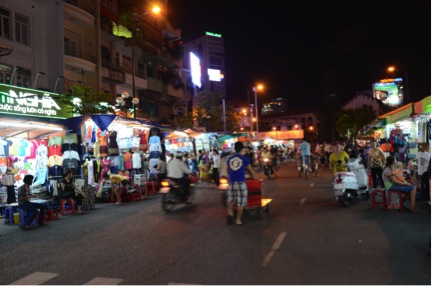 Bars and Clubs
Bootleg DJ Cafe(9 Lê Thánh Tôn, Bến Nghé, Quận 1)
After a day of walking around and seeing the sites my friend and I met with the Expatriates (expats) at this bar called Bootleg DJ Café. The owner is a DJ hence the name.  It's a small bar with and a good place for locals and tourists to hang out and relax and have a few drinks. The music is really good and the staff is friendly. Through our Expat friend we met a few people from Russia, France, North Vietnam, and the states.
Club Lush  or Lush bar as some may call it(located on Ly Tu Trong, Bến Nghé, Quận 1)
is a great club for foreigners and locals to have a great time. The night that we went was the anniversary of the club and the owner brought out a 5-layer cake, dancers coming down from the ceiling on ribbons, champagne was given out to everyone. You can get bottle service for $50USD. Mixed drinks were anywhere between $1-5USD. The waitresses are nice and beautiful. The club has different nights like thirsty Thursday, ladies night, and hip-hop night. If you want to listen to great music and dance all night, club lush is the place to be.
Saturday
Mekong Delta tour
For a reasonable price, ($4-$15USD depending on your negotiating skills) you can book a tour to Mekong Delta through your hotel. The bus will pick you up around 8am. Please note that it's a full day drip. The day that I went, it was raining, so the delta was really brown and murky. It was not an exciting trip. However, I did get to meet some cool travelers from Canada and Singapore. The tour takes you around small villages along the delta. You get to stop and eat lunch and see how life is like outside the city. A lot of the places don't have power and they use boats to get from one place to another. It's a different world between the city and the villages. The delta itself is massive, and the tour guides does a good job of explaining what you are seeing. If you get motion sickness, I suggest you don't take the tour. If you know it's going to rain, I suggest you don't do the tour.
Sunday
I took the time to walk around the city and meet up with the people that I met at the DJ Bootleg Café and some of the other bars to say good bye. Visiting Ho Chi Minh City was/is a rewarding experience. I still stay in contact with the people that I met during my time there. I hope to visit the city again in the near future.