If you plan on visiting Bangkok, do not go on a weekend of an election. 95% of clubs, bars, etc. are closed for fear of violence depending on which party wins the election. No one is allowed to sell alcohol that weekend.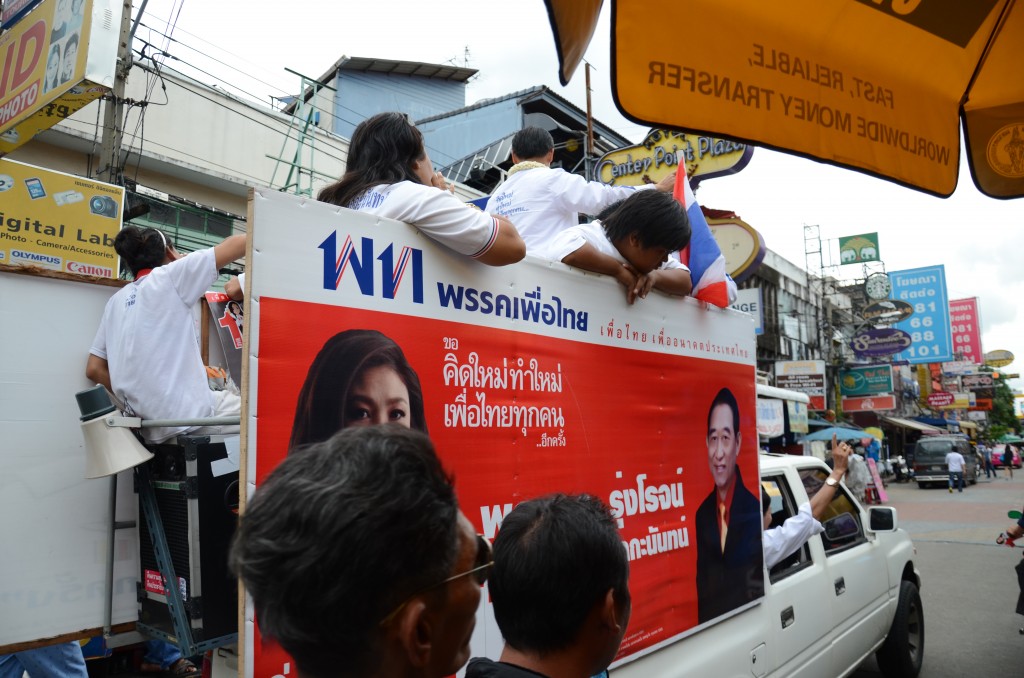 With that being said, my friend and I decided to visit Bangkok on the weekend of an election in 2011. We did not know that on that Saturday most places would be closed.
Before I go on any trips I do my research on the area. This means, I check out the crime rate, crime against tourists, local laws, popular backpacking locations, hostel locations, and tourists reviews. I print out a map of the area and I never wear my best clothing. Although you are on vacation, you have to be aware of where you are and not make yourself a target for thieves. Once, you arrive at your destination, take your time to recognize landmarks and nearby streets.
Depending on your country of citizenship, you can get a visa on arrival in Thailand. Which means, once you land, you stand on the immigration line till it's your turn, and the agent views your passport and stamps it. You are now officially a tourist.
Thailand is known for its shopping, full moon parties, food, the lady boys (cross dressers), beautiful beaches, tuk-tuks, temples, massages, beautiful women, and a few other things.
Depending on the time of year and when you purchase your tickets, you can find round-trip tickets from Singapore to Bangkok for $230USD -$330.
When you arrive at the airport grab a free tourist map and a map of the train.
Friday
Our flight arrived 8pm from Singapore. From the airport you can take the train to the heart of Bangkok. However, there are no trains near Khao Son Road. This means you get to practice your negotiating skills with the cab drivers. Once the cab drivers realize that you are a tourists, they will turn off the meter and you will have to negotiate a good deal with them. Make sure you have a printout of the currency rate between the Thai Baht and the U.S dollar to make sure you are not overpaying. You should not pay more than $10USD to get from the nearest train station to Khao San Road.
Once we checked into our hotel around 10pm. The streets were already filled with tourists from all over the world. The music was bumping from every club, people were shouting, restaurants were packed, people were having a great time.
Around 3am-4am, the scene starts to die down as all the places start closing down and people start making their way to their hotel/hostels for the night.
Saturday
We decided to walk around the near by streets to get an idea of what's around Khao son Road. What we saw were lots of shopping centers, street vendors, taxi, markets, and small shops. When traveling, it is a great idea to get to know your area.
Khao Son Road
If you are a backpacker or traveling alone, you will want to stay on Khao Son Road. It's a street packed with tourists, locals, and backpackers. Hostels on Khao Son Road are between $17-$45 a night depending on the hostel and what type of room you get. Plus you get to split between you and your roommate/s.
On Khao Son Road, you can find local vendors selling shirts, paintings, electronics, and tailored suites. Since, this is a small concentrated area, you will not receive the best value for your money.
What you will find on Khaosan Road
Tailors (for custom made suits, dresses, etc.)
Restaurants
Clubs
Bars
Hotels
Hostels
Clothing stores
Lady boys
Call girls and other words that fall in the same category
Tuk-tuks
Taxi's
Massage parlors
Handmade crafts
Tour guides
The place is an international tourist haven. As it popularity continues to grow, I am sure you will be to find anything on that street. On different nights, local entertainers will come out and do a show for the crowd. When I was there, a few of the break-dancers came down to do some acts. They were incredible. It was some of the best break dancing that I've ever seen. The street performers reminded me of being in New York City.
The Sites
Golden Buddha located at Wat Traimit Temple in the Chinatown area
It is currently the world's largest gold statue. The temple is kept in great condition. You will find a lot of tourists snapping pictures of the Golden Buddha. If you are in Bangkok is it a must see. Please know that it is a temple and therefor people will be worshiping through out the day. Respect the religion and the temple. As a tourist you represent tourists all over the world and your home country. Don't ruin it for everyone by being rude and disorderly.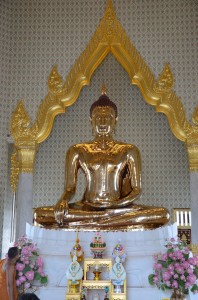 The Grand Palace
If you plan on visiting the Grand Palace, please sure to dress appropriately, this means long pants and no tanks tops for men and women. Wear sneakers or sandals with socks. You have to buy a ticket at the ticket booth inside the palace to enter. Beware of locals trying to sell tickets outside the Palace.  Only purchase tickets at the official ticket booth. Once, you purchase your ticket, if the staff feels that you are not dressed appropriately, they provide pants and other clothing for you to wear. I know because I was there a wearing shorts and I had to change.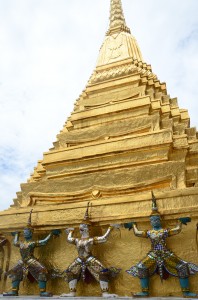 Out of all the sites there is to see in Bangkok Thailand, The Palace was my favorite. The palace is huge, so make sure you leave enough time to see the beauty that is the palace. They still have guards working in the area. You will notice many tours going on. If you walk closely to the tours you can listen in to the history of the place. Otherwise walk at you leisure. The Palace has many buildings, some of which are not open to tourists.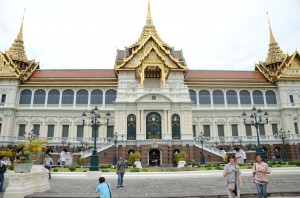 The Temple of Emerald Buddha is located within the palace walls. Although, this is a main tourist attraction, people come from all over the world to worship at the temple. Resist the urge to take pictures and respect where you are.
Sunday
Shopping
Thailand is known for its mega shopping centers, from the walls, to the weekend market. People travel to Thailand from all parts of the world to shop. You can purchase a lot for a little. I bought a few shirts and of course my favorite, Thailand Fisherman Pants! They are as comfortable as pajamas but cool enough to wear out in public. Make sure to get the ones with the pockets. Read my article on negotiating in Asia to get great deals on everything. The markets are filled with great food, entertainers, concerts, and people from all over the world speaking different languages. It is truly a melting pot. If you plan on shopping at the weekend market or any of the mega shopping centers, please make sure you bring lots of cash because there are no ATMS at the outdoor markets but the malls do have ATM's (this might have changed since the last time I was there).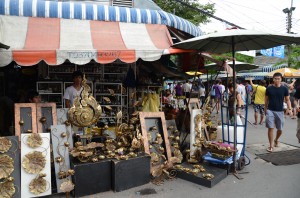 Chatuchak Weekend Market
Shopping at the weekend market is experience that I can't fully describe in words. You have to be there in person to fully appreciate the place.  You need a full day to shop at the weekend market if you are a true shopper; this is not a task that can be done in a 1 or 2 hours. There is a skill and an art to being there and purchasing. Your communication skills have to be at the top of its game. I enjoy negotiating for the best price, it's a skill that you have to develop and will surely help you in other aspects of life. You can find a variety of products at the market, from toys, to electronics, clothing, pots and pans, paintings, maps, you name it and they have it. You have to be patient in quest. The market gets over 1000,000 visitors per day. You might be thinking that its overcrowded, however, the market is so big that you don't even notice all the people around you.
If you get tired of walking around, there are a lot of fine local restaurants where you can stop and enjoy a quick bite to eat. Don't forget to try the world famous Thai Tea. The street food at the weekend market is nothing short of incredible. As I am writing this article my mouth is watering, I want to go back right now.
Tuk-tuks
For those of you who may not be familiar with Asian culture. Let me introduce you to the tuk-tuk. If you have an opportunity to ride in one of these vehicles, please do so. It's is a lot of fun. When you are stuck in heavy traffic, they are easy to maneuver around. Did I mention they were a lot of fun? On our last day in Bangkok, we took one the nearest train station from Khao Son Road to the airport.  We were zipping in and out of lanes, I felt like I was in a chase scene in a Hollywood movie. The tuk-tuk driver must have had a special license, the moves that he was making in the tuk-tuk was straight out of a James Bond movie.
The people
The people of Thailand were very nice and respectful. I had a great time interacting with everyone I met with the exception of the cab drivers. I love traveling to different cities to see what sets them apart. For the most part, it's the people. On one block, you might find someone begging for food, on another, you will find a group of people practicing hip hop moves. During my visit there, I was able to interact with locals that at one time or another either studied in Singapore or the States for a semester or so. I met a friend in Bangkok that I continue to talk to. I hope one day soon I can go back for a longer period of stay.