La saline is one of Jacmel's hidden gems. You won't find it on any tourist brochure but it's a favorite among locals for several reasons. Most people will tell you to visit Ti Mouillage or Raymond or Kabik. But La Saline shouldn't be left out. It's perfect do to its proximity to the city center. It can take between five to seven minutes on a motor bike to get there. If you feel like going on an adventure and you can walk; it will probably anywhere between thirty to forty-five minutes. I first heard about La Saline from one of the locals that I befriended over the last month or so. I wanted to relax somewhere nice but I didn't want to go far. To be honest when he said La saline I wasn't sure what it was. My friend didn't really explain it well or at all. He just said to go there and bring a friend. So that's what I did. I took a friend with me, grabbed the nearest moto taxi and went on an adventure. Off the beaten path I would call it because we went from paved roads to dirt paths! On the way there the taxi driver asked if I wanted to go to the front or the back. Not knowing the difference he explained that the front is where people relax and the back is where people swim. Not knowing which was the front or the back, I chose where people relaxed.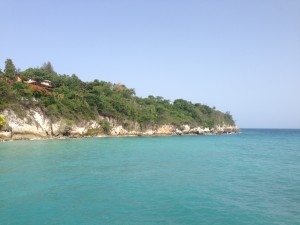 When we got to the entrance of La saline, the view was beautiful. On the shoulders of the rocks there were beautiful homes, one had a beautiful deck; the colors on the homes were beautiful. There were kids playing, swimming, eating, listening to great music and enjoying their time. I immediately felt lucky that my friend told me about this place and I was able to share that moment with my friend that came along the ride. We got to an area where most of the moto taxis and some cars were stationed and got off.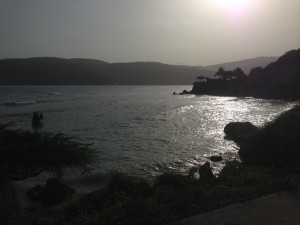 We walked over to this cliff area where we could see out into the ocean and the area that the locals were swimming. The only thing I wish I had were some swimming drunks and something to drink. We decided to sit down and watch everyone else run out into the ocean. Little crabs were crawling near the cliff and the ocean was crashing into the rocks. The sound of the water crashing was beautiful. For a moment, I fell asleep because it was so relaxing.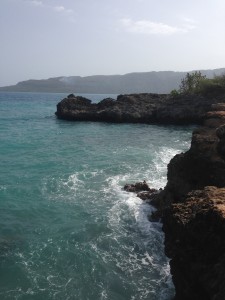 Being at La Saline was one of the best moments of living in Jacmel. It's a hidden gem that needs to be publicized more. Whenever I return to Jacmel, I will be sure to bring some swimming trunks a few drinks and head out to La Saline.